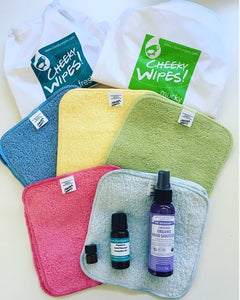 Travel Wipes by Cheeky Wipes
Travel Wipes Kit

Whether it be car, boat or plane travel, keep clean and fresh with these Cheeky travel wipes. 
If you are travelling with kids, this kit is perfect for mishaps and mess or to wipe down surfaces before use. 
This is a great 'going away' gift for friends or family heading off on a trip. 
Includes:
Cheeky Wipes fresh bag to store damp wipes

Cheeky Wipes mucky bag to pop used wipes in 

A 5ml lavender and chamomile oil with a 2ml empty dropper bottle to store oil in while you travel

10 x Rainbow terry cloth wipes 

Dr Bronner's lavender hand sanitiser spray 
Directions: Wet the wipes, add 1-3 drops of oil and squeeze out the excess water. Store them damp in the 'fresh' bag until needed. Once used, put them in the 'mucky' bag and wash when you get to your destination. The inner 'mucky' bag lining can be unzipped and put in the washing machine without being touched.
Use the hand sanitising spray as needed. 
---
We Also Recommend
---