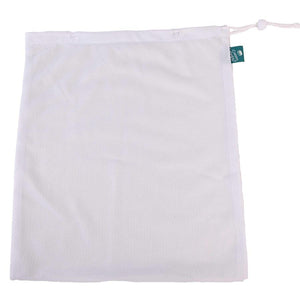 Cheeky Wipes Mesh Wash Bag for Mucky Container
Large Mesh Wash Bag For Cheeky Wipes Mucky Container 

Features:
Allows easy washing of Cheeky Wipes cloth baby wipes without having to touch the mucky wipes!

Mesh Bag material: Nylon 

Size: 31cm (w) x 36cm (l) 
Directions for Use:
Hook the bag onto each of the four corners of the Mucky Container inner rim (the Mucky Container is then filled with water & a few drops of the Mucky Wipes Soaking Solution Oil Blend).

When it comes time to wash the wipes, simply unhook the mesh bag from the Mucky Container and place directly into the washing machine (drawstring fully open to allow them to clean easily) with your normal wash, up to 60c 
This is the same Large Mesh Bag is included in our Cheeky Wipes All-In-One Kit. However most parents like to purchase an additional wash bag for the convenience.


---
We Also Recommend
---