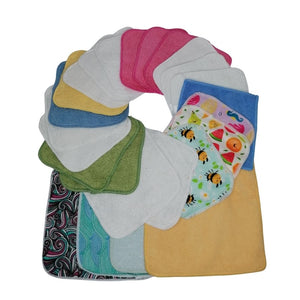 Cheeky Wipes Reusable Cloth Baby Wipes - Trial Set
Need help with which choosing which wipes are best for you?  
Want to compare reusable wipes to disposables? 
Not sure which wipes you'll like best?
Choose our trial set and see for yourself. Receive a selection of 25 wipes from all wipes currently in stock
How to use reusable baby wipes
Simply soak the wipes for babies and children in the Fresh Baby Wipes Container with water and Fresh Baby Wipes Essential Oil Soaking Solution. Perfect for sensitive skin or use with our Wet & Wipe spray 
Or simply keep tap water in a spray bottle and spray clean wipes with each use.
Carry wipes in one of our wetbags for easy use when out and about.
Our natural, soft reusable baby wipes are plant based, 99% water, better for the environment and will save you money!
---
We Also Recommend
---