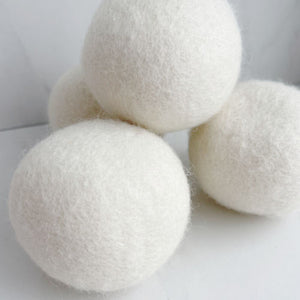 Wool Dryer Balls - 4 Pack
Brand new Wool Dryer Balls by b clean co are the game changer to really up your eco laundry routine. Wool Dryer Balls are made from 100% Australian felted wool and are designed to absorb moisture in your clothes, reducing drying time and energy consumption and at the same time gentle softening your laundry. These wool dryer balls come in packs of 4 and you will find a noticeable difference in your drying time – we recommend 8 dryer balls in total to really take drying to the next level. These are extra large compared to most brands and a buttery white colour to see them easily amongst your clothes.
As these tumble through your laundry, they create pockets of warm air amongst your clothes which improves air circulation and allows the warm air to equally transfer amongst your garments reducing drying time.
---
We Also Recommend
---