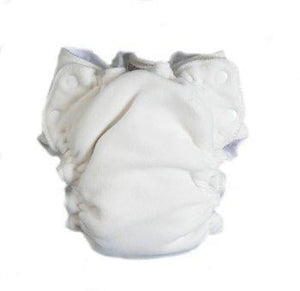 Baby Beehinds Night Nappy
Baby Beehind Night Nappy
A gorgeously plush specially designed night nappy for those heavy wetting babies out there! Side snaps allow independent fastening at the waist and thigh for the perfect fit. Fast drying with excellent absorbency- fantastic value for money. This is the ultimate night time solution.
If your baby is a heavy wetter and you need a heavy duty nappy to cope with the long night hours, we're sure you'll love these specifically designed night time nappies. They truly offer incredible absorbency, with up to 23 layers of bamboo fleece right in the wet zone where it is needed most!

As this nappy is a fitted nappy, the whole nappy is absorbent, and therefore a cover is required over the top to keep baby's clothing and bedding dry. 

Made from luscious bamboo fleece, with an outer layer of velvety organic cotton velour and an inner lining of buttery soft microfleece, baby will sleep comfortably with a dry bum.
Baby BeeHinds Night Nappies fasten at the side- using our great quality resin snaps.
Side snapping nappies are great as they allow babies who have chubby or lean thighs alike to get a perfect fit.
The waist and leg settings can be fastened independently, so if baby has a little waist but big thighs- that's okay- this nappy can still provide a beautiful fit!
Features and useful info:
These nappies are sized small, medium and large to provide a precise fit.

These nappies are made from natural fibres using renewable resources, and lined with a stay dry layer (synthetic) to keep baby's bum dry.

These nappies are the PERFECT overnight choice- team with a wool cover for a leak-free night!

These nappies come with 'quick-dry' snap-in absorbency.
Two long booster 'tails' mean you can fold the absorbency to exactly where baby needs it (more to the front for boys or tummy sleepers for example!).
Achieve up to 23 layers without any additional boosting.

Side-snap astening to allow independent waist and thigh settings.
Baby Blossom recommends using this nappy with either the Bummi's Super Whisper Wrap or Motherease AirFlow PUL nappy covers, or a wool cover. As this is a bulky nappy not all covers will be large enough for full coverage.

Size
Small: 2.5-4kg
Medium: 4 - 8kg
Large: 8 - 14kg
XLarge: 14 - 20kg

Please note sizing is a guide only and some babies may outgrow a particular size even if they are under the maximum weight range.
---
We Also Recommend
---