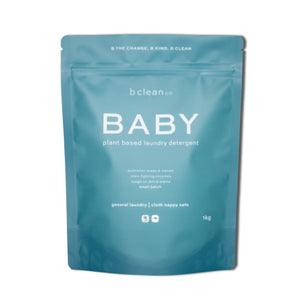 b.clean.co Baby Laundry Detergent
B.Clean.Co  100% Australian Made, Deep Cleaning Powdered Laundry Detergent
BABY Eco Laundry Detergent is the plant based, laundry detergent designed specifically to wash Modern Cloth Nappies and give you super clean results, without the added chemicals.


The first officially endorsed detergent by the washing gurus at Clean Cloth Nappies this is a serious, game changing plant based detergent. Safe for sensitive skin, no nasty chemicals, 4 deep cleaning enzymes this is a must-have detergent for your family and can be used on everything, not just reusable nappies.


Plant Based Super Powers – A powerful combination of plant based surfactants, deep cleaning enzymes and free from all the nasties this delivers great results every time.
Cloth Nappy Safe  – One of the hardest things to clean (and keep clean) is cloth nappies so we developed a powerful combination to keep even the nastiest of items clean and smell free.
Removes the Stinks – Our deep cleaning formula prevents the eye-watering stinks every time, especially if you follow our washing advice.
Smells like Australia – Say what! Yes this divine smelly powder smells like the Australian Bush – a gentle scent of Eucalyptus when you open the pouch smells so relaxing, yet it rinses free so there is no residual smell.
Australian Owned & Made  –  When you choose b clean co you are supporting local Australian manufacturing and keeping employment where it belongs. We take great pride in working with local manufacturers to create jobs in South Australia.
No Nasties  – We hate nasty ingredients too and know how important taking care of your families needs is so you won't find any hidden ingredients in our products. Free from SLS, SLES, Parabens, Phosphates, Synthetic Fragrances or Dyes and Optical Brighteners. Nothing but good stuff.
Grey Water & Septic Safe plus Vegan & Not Tested on Animals.
Recycle Me – We hate hard packaging that most detergents come in so our soft pouches are recyclable via the RedCycle programs across Australia. As soon as we have a more environmentally friendly option suitable for small scale production we will let you know, but in the mean time we think our pouches are pretty rad.
Scoop not included in this product, so you can either grab one of our custom made biodegradable & compostable scoops before you checkout OR use what you have at home. Recommended dose is 45 grams = 2 x Tablespoons. 
---
We Also Recommend
---