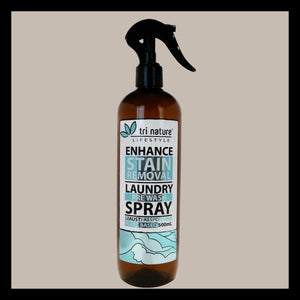 Tri Nature Enhance Pre Wash Spray
Tri Nature Enhance Pre Wash Spray
An environmentally responsible, outstanding replacement for ordinary stain removal sprays. Enhance Pre-Wash Spray contains highly active, natural ingredients that absorb into stains to begin breaking them down before the wash even begins.
Uses
Ideal for pre-spraying stained laundry items such as nappies, clothing and towels.
Health & Environmental Considerations
Suitable for use in grey water and septic systems
Made from 100% plant based materials
Packaged in recyclable plastic
Contains NO caustic alkalis, petroleum by-products, SLS, artificial colours & fragrances, EDTA, parabens or formaldehyde
Available in 500ml spray bottle.
---
We Also Recommend
---