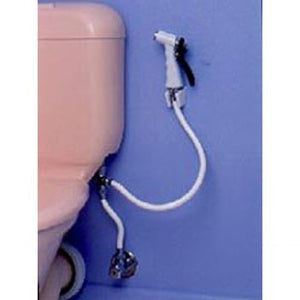 Little Squirt Nappy Water Sprayer
Little Squirt Nappy Water Sprayer

The easy-to-fit, convenient way to clean cloth nappies and nappy liners. It does a FABULOUS job at making the cleaning up of solid (or sometimes not so solid!) waste a much easier process. It's a simple hose that attaches to your existing toilet water supply tap (no plumber needed, it is easy to do it yourself) allowing you to squirt the nappy's contents straight into the toilet bowl with no mess, no fuss. Trigger is fitted with a tamper proof system so toddlers can't get up to mischief!

Just hold nappy in toilet bowl, use the Little Squirt to remove waste into the toilet and flush. Nappy is now ready for pailing. Easy Peesy. 
This item comes with a full Manufacturer's Warranty.  

Warning: some modern toilets have their plumbling taps located behind the wall- this device is not suitable for hidden plumbling.  As per image, taps need to be external.


Little Squirt is an Australian brandline.
---
We Also Recommend
---