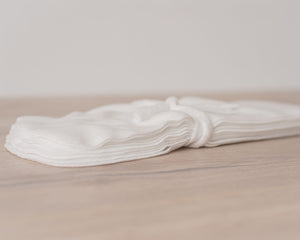 Reusable Fleece Nappy Liners - 10 Pack
Reusable Nappy Liners - 10 Pack
Ultra Soft, New Fleece Material Wicks Moisture Away Quickly For A Stay Dry Feeling.
Easy Flick & Stick: Let's be real – dealing with poos is one of the main hesitations when you start out, but these reusable nappy liners are a game changer. Once babe is on solids, you can simply flick the poo off into the loo. Add these to your washing machine, line dry and good to go!
Reuse Again & Again: A little more effort than our disposable nappy liners, but these are great value for money as you can use them again and again.


How To Use: Simply lay inside the nappy so this fabric is the closest to bub's skin and secure the nappy. Make sure that any excess is tucked inside the nappy to avoid wicking.
We recommend 20+ for full time cloth nappy use.

Product Specifications
Absorbency: None – It's just to catch solids. 
Fabric: 100% Microfleece (new softer fabric)
Sizing: OSFM - fits all cloth nappy styles
Size: 32cm x 12 cm (10 per pack)
---
We Also Recommend
---