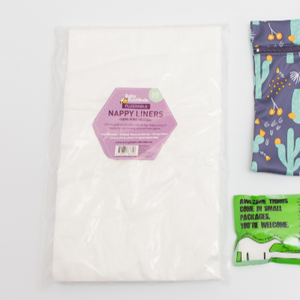 Baby Beehind Nappy Liners - 50Pk
Nappy Liners - 50 Pack

These beauties make change time a breeze! Simply add to each nappy, and when soiled they catch the solids & let the liquids through. Then just pop the soiled ones down the loo, and bin the wet ones!


Made from 100% Pure Viscose. They are Flushable & Compostable, Hypoallergenic, Biodegradable, Chemical Free & Eco-Friendly suitable for regular septic tanks.


Liners reduces soiling of nappies to make cleaning easier and more hygienic, soft and gentle on skin with a stay dry feel.


Liner Size is 20 x 33 cms
---
We Also Recommend
---