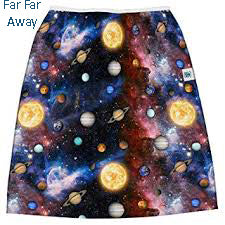 Nappy Pail Liner from Planetwise
Reusable Nappy Bucket Liner


What makes Planet Wise  Nappy Pail Liners different? They are the first and only nappy pail liner on the market that are not only sewn but also sealed! (patent pending) You can put your super wet nappies, swimwear, wet towels, or anything really wet into these liners and they won't leak or wick (condensation may occur when used in a nappy pail - this is normal and will even happen if you use a plastic garbage bag).
Available in a range of great colours along with a sturdy no pill elastic and matching thread at the seams so no white stripes down the sides at the seams!
Planet Wise Nappy Bucket Liners are made with a high-quality polyurethane laminate (PUL) fabric that is anti-microbial and inhibits the growth of bacteria and fungi.
Size: 68.5 cm  x  68.5 cm (27" x 27")  -  50 Litres
---
We Also Recommend
---