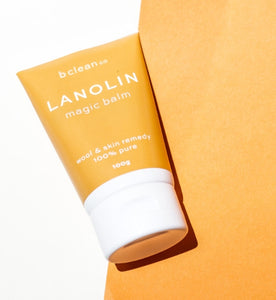 Baby Beehinds Lanolin Magic Balm
Lanolin Magic Balm

this Multi-Functional Balm is not  just for lanolising your wool covers, this balm can be applied to dry, cracked skin for re-hydrating, nourishing & soothing dry, cracked skin. A tiny amount goes a long way! Lips to legs to babies bottoms this really is a magic balm. Who thought just one ingredient could be so amazing!
100% Australian Sourced Lanolin – As true blue as it gets, sourced from the best merino sheep in the world, processed & manufactured 100% in Australia.
Easy Dispensing – No more sticky mess, simply squeeze the amount you need and away you go
Pharmaceutical Grade Goodness – Refined, distilled & refined some more this is the purest lanolin you will find with zero nasties so its perfect for applying against the skin.
Locally Made in Adelaide, Small Batch Philosophy – Manufactured by new cult brand b clean co , this product isn't mass produced so you know every single tube is made with clean love.
Recycle Me – The perfect compostable tube style packaging isn't yet available, but once it is we will be right onto it, so in the mean time our packaging is 100% recyclable.
100 gms – With a shelf life of three years this tube will last for years and see you through countless dry nights! Great value for money when the other premium lanolin products are almost $50!
---
We Also Recommend
---