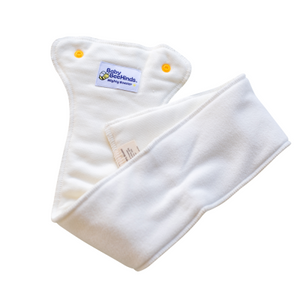 Baby Beehind Mighty Booster
Do you find you're always waiting for your Night Nappy inserts or All in Two inserts to dry OR you love the idea of snapping a fresh insert into a All-In-Two nappy on the go? Well this Mighty Booster will do both and will certainly make your life a little less stressful come change time. You will always know you have the extra inserts you need when that crazy time of day comes.

This ultra-absorbent insert can be used in either the Magicall All-In-Two Nappy OR in our Night Nappies.  They Snap-In to both nappy styles, and can be folded to suit the wet-zones where you need it. Middle for girls, front for boys so you can get up to 9+ layers in the wet-zone.


3 layers of our super thirsty bamboo fleece

Top layer of buttery soft suede cloth to wick moisture away and keep that little bottom feeling dryer for longer

Measures 70cm in length
---
We Also Recommend
---