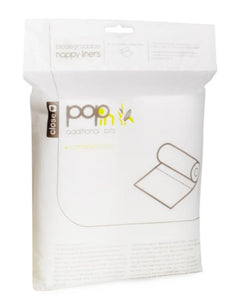 Pop-in Biodegradable Liners - 160Pack
Close Pop-in Biodegradable Liners - 160 Pack

If there's one thing that makes cloth nappies easier to use, it's nappy liners. These genius creations allow moisture to pass through into the boosters to help keep baby dry, whilst retaining solids to help prevent staining of the nappy. Genius, we said, right?!
Makes Life Simpler
The Pop-in biodegradable nappy liners are designed to fit perfectly with the Pop-In nappies but can be used with any other type of cloth nappy.
These eco-centric nappy liners are made from cornstarch PLA (Polylactide). This is a biodegradable thermoplastic derived from lactic acid which is truly compostable.
Once done, simply flush the poo and dispose of the liners in the bin or compost.

Makes Parenting Easier
While you don't always need to use liners with cloth nappies, it's a great idea to have a pack of these on hand should baby break out in a rash and you need to use some nappy rash cream, or your usually light wetter has a growth spurt which leads to heavy wetting as well!
With nappy creams, especially, you need these liners because some creams are so thick that they won't even come off fleece liners. Most nappy manufacturers advise the use of liners with any and all types of cream.

Each liner measures 19 x 27 cm.
---
We Also Recommend
---