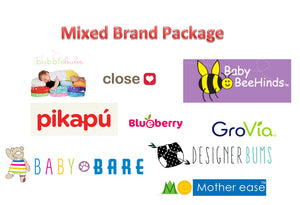 Mixed Brand Part Time & Full Time Pack
Like Variety? or just can't decide which brand to fill your nappy stash with? Then our Mixed Brand package is for you.
Get the savings of a bulk pack with the variety you want. Different cloth styles and different cloth brands chosen from our most popular nappy ranges.
This mixed pack 
starts with 10 nappies
 and you can upgrade to 18 or 24 nappies to really complete your nappy stash.
All the nappies are one size fits most unless otherwise indicated (we have a 
newborn pack here
 if you need smaller sizes)
10 Pack 
Mother-ease One Size fitted nappy(requires cover) with Mother-ease Air-Flow Cover (cover is sized)
Mother-ease Sandy's fitted nappy (sized, requires cover)
Thirsties  All in One
Bubblebubs Candies All in Two
Blueberry Simplex All in One
Close Pop-in All in Two
Seedling Pocket
Baby Bare Teddy Bear All in Two
Baby Beehind Magicalls Pocket
Imagine All in One
18 Pack Upgrade
(get the followingn additional 8 nappies)
Bumgenius Freetime All in One
Mother-ease Wizard Uno
Econaps All in Two
Blueberry Deluxe Pocket
Grovia Single Shell (cover)
Hemp Jersey Flat by Geffen Baby (requires cover)
Imagine Bamboo All in One
Junior Tribe Co Flex All in Two

24 Pack Upgrade
(get the same as the 18 pack with the additional nappies below)
Designer Bums All in Two

additional Thirsties All in One
additional Bubblebubs all in two
additional Close Pop-in
Baby Bare Bare Cub All in One
Grovia ONE nappy
If you can't see the brands you want here or want even more variety please contact us and we can put together a package just for you.
---
We Also Recommend
---