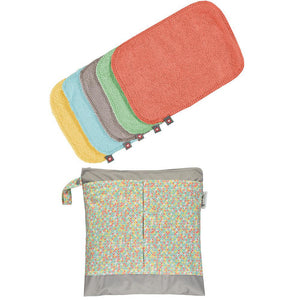 Popin Reusable Bamboo Baby Wipes - 10Pk
Made from gorgeously soft, super absorbent and anti-bacterial bamboo, these are a great alternative to disposable baby wipes or simply use them for mucky hands, faces and noses instead. They are just the right size to fit in your pocket so they are always on hand when needed, and when they are dirty pop them back into the tote bag.
GENTLE, DURABLE, REUSABLE BABY WIPES
pack of ten 

reusable bamboo wipes

made from naturally 

antibacterial bamboo

bamboo is seven times 

more absorbent

 than cotton

environmentally friendly

 alternative to disposable baby wipes

comes in a 

zippered tote bag

great for 

mucky faces and hands

five unisex colours

 to match the tote bag

choose from 

brights or pastels

 colour range

save money

 instead of buying disposables
Better for the environment
Did you know most disposable wipes are made from microscopic plastic and wood pulp? Yes, that means plastic and paper, mixed with synthetic cleaning agents. They take decades to erode, leech harmful chemicals into the environment and thousands of them end up clogging the sewers of major cities in the world. Go reusable instead!
Additional Info
fabric composition: 70% bamboo viscose 30% Cotton 

size: 19cm x 14cm

Pack of 10 wipes

Comes in a zip up tote bag
---
We Also Recommend
---