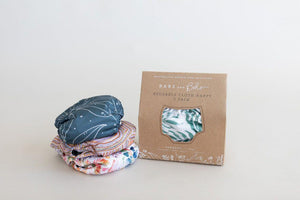 Bare and Boho Nappy V3 - 3 Pack Bundle
Bare and Boho Reusable Cloth Nappies - V3
Bundle Includes: 3 Designer Outer Shell, 3 Eco-Friendly Nappy Inserts.
Bare and Boho are a designer cloth nappy system offering ease of use and simplicity, without compromising on efficiency and convenience. Our nappies are designed to make nappy changing simple, efficient, cost-effective and environmentally friendly. We offer a functional nappy for all members of the family, day care and guardians, to use.
Our reusable cloth nappy system features an outer water-resistant nappy shell uniquely designed with our wipeable inner lining. Offering you the ability to reuse your shell through numerous changing, which makes using our nappies on-the-go, so efficient! 

The separate inner absorbency components - (inserts, trifolds and boosters) - are available in complimentary sizes and simply snap -in to your shell. Each nappy in the bundle comes complete with matching insert - trifolds and boosters available separetely.
Our Dual Size Feature!
Bare and Boho cater to all shapes, sizes and purposes covered in our dual range sizing of reusable cloth nappies:
Newborn / Premature: Suitable for weight ranges between 1-5kg. Designed for tiny bottoms; less bulk and less fabric for first-time parents!
One-Size: Suitable for weight ranges between 4kg - 18kg.

Our Nappy Components! 

1. Nappy Shell
Outer water-resistant shell features light-weight and soft water-resistant fabric.
Featuring double elasticated gussets which create further panelling offering extra leak-guard around the inner thighs, as well as gusseting at the rear of the nappy to avoid leakage up the back.
Featuring snaps in the groin to size the length and snaps at the waist to size the tummy fit. 

 
How to Size:

Length Fit: 
4 rows of snaps allowing parents to customise length of their nappy, providing a custom fit around the thighs.  (Snaps situated in the lower section front-panel of nappy shell.)
Tummy Fit: 
Single row (Newborn) and double row (One-size) snaps situated at front-waist of the nappy shell, to fit the tummy. Overlapping closure feature available.   

2. Insert

:
Designed for day use to absorb soiling. Changing recommended between 2-6 hours.
4 Layers of absorbent "STay Dry" Bamboo-cotton with quick dry Microfleece top layer fabric with Double-Layered Side gusseting around the thigh contour for maximum anti-leak protection. 

The Bamboo based Stay-dry Insert is slightly more affordable which can impact on decision making, and although stems from a natural source being the bamboo plant, it does undergo extensive processing to convert to a fibre. Bamboo Inserts are blended with cotton, so there are no other added synthetic blends. Bamboo-Cotton does also make for an absorbent and thirsty fabric. With the added benefit of the top layer being microfleece, this insert will not feel wet for your little one as opposed to our natural fibre Hemp insert alternative. Microfleece wicks away moisture.
3. Booster Pad (available seperately)

: 
Designed to add a trim extra absorbency layer to the insert option if you require longer times between changing. You can fold the booster in half and sit at the front of the nappy for boys or tummy-sleepers in particular. 3 Layers Bamboo-cotton with quick dry Microfleece top layer, contoured to provide optimal fit. 

Designed as the ultra-thirsty alternative to the general insert for day or night use, also can be used combined with the above inners for added absorbency for night use.
3 Layers Bamboo-Cotton fabric which folds thrice to create 9 thirsty layers.
---
We Also Recommend
---