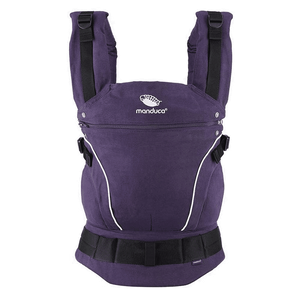 Manducca - Pure Cotton Organic Baby Carrier
Manduca Pure Cotton Baby Carrier:
Manduca Baby Carrier built in newborn insert can be used from birth endorsed by the Australian Physiotherapy Association and the Australian Breastfeeding Association.

100% organic cotton against baby's skin, and on the outer The Manduca Baby Carrier provides excellent support for both the baby and the wearer.

The shoulder straps are generously padded, and work together with the waist belt to distribute baby's weight evenly for the wearer.

The baby can be carried on the front, back or side from 3.5kgs up to 20kgs.

The baby always faces in to the wearer, never outwards, as this is the most ergonomically sound position.

The Manduca Baby Carrier positions baby's knees higher than the bottom – creating an M shape which is orthopedically sound.

The M position replicates a baby's natural position and helps the baby's hips to mature.

Baby's knees are pulled up, often as high as the belly button.

The baby's legs and bum form a capital "M".

Baby's knees are higher than their bottom – creating an M shape – orthopedically sound Broad sitting base for baby that mimics the unstructured nature of a sling, whilst supporting thighs.
Made from 100% certified organic cotton.
Built in newborn insert for use from 3.5kgs.
Suitable for front, back and hip carrying Baby's back and neck are fully supported with zip extension for versatility for carrying body lengths.
Integrated adjustable headrest/sunshade, foldable into hidden inner pocket - great to stop 'wobbly head syndrome' whilst sleeping too!
Two handed unclasp action of clips around wearer's hips for extra security.
Extra long padded hip and shoulder straps for maximum wearer comfort to fit the small and the tall - hip belt circumference allows for a generous 140cm.
Machine washable at 30 degrees with mild detergent, do not bleach, tumble dry, iron or dry clean.
Materials: 100% organic cotton inner and outer, non toxic dyes and quality fixtures and straps.
---
We Also Recommend
---