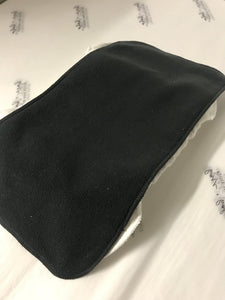 Bare & Boho Reusable Microfleece Liners
Bare & Boho reusable micro fleece liners are a wonderful alternative to  disposable liners.

Sold individually or in a 10 pack (10 pack comes in with drawstring pouch)
They are designed to be laid flat over your nappy insert, to collect solid waste from embedding into the natural fibre inserts.
This will allow for easier cleanup, as solid waste will fall more easily off liner, therefore protecting your natural fibre inserts and increasing their lifespan.
Microfleece is also effective at wicking away moisture from baby's bottom, which will protect sensitive bottoms.
Reusable microfleece liners are also designed to be used when barrier cream is in use on baby's bottom. The liners will protect the inserts from heavy cream build-up, which can in turn detract from an inserts absorbency if no liner is in use.
DIRECTION OF USE:
Lay over the top of your nappy insert. When changing, shake waste off liner into toilet and place liner in dry-pail until wash day.
WASHING RECOMMENDATION:
Wash with nappies, line dry or tumble-dry suitable.
DIMENSIONS:
30cm x 15cm
---
We Also Recommend
---