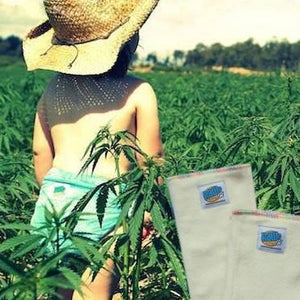 RAWr Hemp Terry Prefold
RAWr Nappies Prefolds made from Hemp Terry:

Made from durable, environmentally friendly hemp terry in a 2x3x2 design making 7 layers of absorbency when folded.
RAWr Nappies hemp terry prefolds are designed to be 'pad-folded' and laid inside the 360 Cover, any other PUL covers or the Toddler-One-Size Pocket to use as a simple, hardwearing and absorbent cloth nappy. They are easily boosted if required by placing an extra insert inside before folding.
Hemp Terry Prefolds can also be stuffed inside the Stuff n Snap AIO Night Nappy and  Soakmaster 1000 Fitted Night Nappy which is a great night nappy solution for heavy wetters!
listing is for 

one prefold nappy

one of the most 

simple and economical solutions

 in cloth nappies

hemp

 has antimicrobial qualities and is the most 

environmentally sustainable choice

 in cloth nappy fabrics
made with a 

generous width

 and has 

natural elasticity

 for most folds that require fastening with pins or nappy fasteners

soft, breathable

 and 

20-30% more absorbent 

than cotton prefolds
use 

pad folded

 in a cover or pocket shell, or 

fold and fasten

 with pins or a nappy fastener to use under a cover 

easy to clean

, 

quick drying

 and can be dried in the dryer if required.
Weight Range
Size Zero 0-5 months (up to 5.5kg)

Size 1 

(34x34cm) to fit 360 Cover on it's small and medium rise settings, approximately 2-12 months, (4.5-9kg)

Size 2 

(40x40cm) to fit 360 Cover on it's medium and large rise settings, approximately 6-30 months.(7.5-12kg)
Size 3 2 - 6 years (11 to 24kg)


 – Also fits inside Stuff n Snap AIO, Toddler One Size Pocket and Soakmaster1000 Night Fitted Nappy!
Care
We recommend dry pailing (placing soiled nappies in a dry pail after rinsing, until washing) but advise against leaving a soiled nappy longer than 2 days without rinsing or washing.
Cold or warm machine wash. Hang or lay flat to dry, can be dried in electric dryer on cool setting. No bleaching, fabric softener or soaking required. Full RAWr Nappies care instructions are included with purchase and can be found here.
We prefer Tri Nature ALPHA PLUS laundry powder and pre-wash soaker for use with Modern Cloth Nappies, inserts and covers.
---
We Also Recommend
---