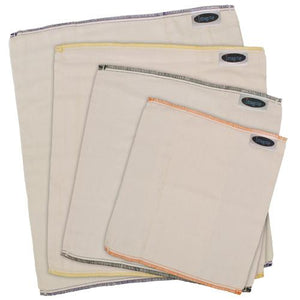 Imagine Smart Fit Prefolds
Imagine "Smart Fit" prefolds (6 Pack)

*Now Available in Bamboo Option*

Cut shorter to fit into a nappy cover without having to fold down the prefold making them much trimmer. Our prefold diapers are also wider to wrap around your baby easier.
WHITE prefolds are chlorine-free! They are whitened with a peroxide bleach solution maintaining a low pH level to help avoid any skin allergies. We still recommend washing and drying your prefolds at least 3 times before using.
Please note when you receive your prefolds they will be very flat and a little stiff, after you wash and dry them they will quilt and get very soft. The more you wash and dry your prefolds the more absorbent and soft they become!
Imagine "Smart Fit" prefolds are made up of three panels of various layers of fabric. The outer panels have 4 layers and the middle layer is a super absorbent 8 layers. Our dimensions are different than the traditional prefolds found on the market - shorter and wider so they fit wonderfully into most diaper covers! Imagine "Smart Fit" prefolds can be used alone in most diaper covers however Snappi Fasteners can be used.
All the layering is 4x8x4, except the XSmall is 3x6x3

Prefolds will shrink approx 5-15%. Washed dimensions are approximates.
| | | | | |
| --- | --- | --- | --- | --- |
| Size | Baby Weight (approx) | Dimensions (unwashed) | Dimensions (washed) | Stitch Colour |
| XSmall | 1.8-4.5kg | 11.5"x12.5" | 11"x12" | Orange |
| Small | 3-7.5kgs | 13.5"x14.5" | 12.5"x13.5" | Green |
| Medium | 5.4-11.3kgs | 15"x17" | 14.5"x15.5" | Yellow |
| Large | 6.8-13.5+ kgs | 16.25"x19" | 15.5"x17" | Blue |
TIP:
Make sure all of your imagine "Smart Fit" prefold is tucked into the diaper cover to avoid unnecessary leaks! 
---
We Also Recommend
---