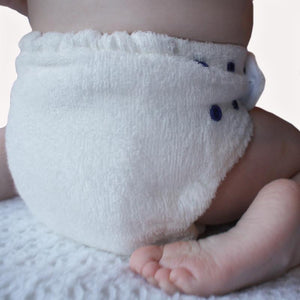 RAWr Soakmaster1000 Night Nappy

New SOAKMASTER1000 OSFM Bamboo Night Fitted:


Full layers of bamboo terry, bamboo fleece and bamboo jersey make this night nappy as thirsty as they come!
---
Weight Range
One Size (Infant to Pre-schooler): approximately 6kg – 20kg.
This thirsty One Size night pocket comes with one super heavy weight 500gsm bamboo trifold included, and can also be stuffed with any of our other inserts as well depending on just how much absorbency you need to get through the night in peace and comfort!
Grow-with-me rise snaps suit babies from infancy through to pre-school years
included trifold may be folded length-wise in three for Medium to Large settings and width-wise in four for Small setting
designed with heavy wetters and tummy sleepers in mind with a fast wicking microfibre core where it counts
large front pocket opening and generous pocket make absorbency placement customisable and easy
Stay dry Coolmax(Athletic Wicking Jersey) keeps baby dry all night
Use with 360 Cover or woollen soakers as a heavy wetting night time solution
Additional snap-on-the-outside tummy booster
 can be added for heavy wetting tummy sleepers!
Wanna know what people are really saying?
Well there's this quote:
"OMG, what a game changer!",
and then there's… 
"Perfect for our heavy wetting toddler!",
and more specific feedback like…
"My little man now last 12+ hours, his skin feels dry when I take nappy off in the morning and his clothes and sheets are dry!".
Care
We recommend dry pailing (placing soiled nappies in a dry pail after rinsing, until washing) but advise against leaving a soiled night nappy longer than 2 days without rinsing or washing. A pail liner will help contain soiled-nappy smells.
Cold or warm machine wash. Hang or lay flat to dry. No bleaching, fabric softener or soaking required.
A note from RAWr: As with most small-run handmade products there can be variance in the colours of materials. The exact colour of RAWr Nappies' fabric and colour of resin snaps may differ slightly from the picture on your screen or from previous product runs, we try to keep the nappies as uniform as possible from one run to the next but sometimes it just can't be avoided.
---
We Also Recommend
---