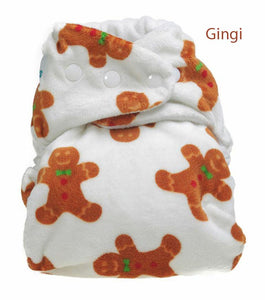 Cushie Tushies Chameleon Premium Nappy
Cushie Tushies Chameleon One Size Modern Cloth Nappy



If you're looking for a One-Size-Fits-Most cloth nappy that is (a) very easy to use, (b) versatile with options for cloth and disposable nappy inserts, and (c) fashionable, then the Chameleon is for you!

The Chameleon comes with two cloth absorbent boosters made from bamboo and organic cotton. The large booster snaps into the inside front of the cover and has elasticised gussets, which, when combined with the elastic leg holes of the nappy cover, provide double the protection from leaks and poosplosions! The smaller second booster fits on top of the large booster. The nappies last 3-4 hours between changes during the day, whilst the stay-dry lining helps draw the moisture away from baby's skin.

Cushie Tushies nappies are a One-Size design. This means that the nappy you purchase when your little one is born will see them right through to toilet training. There is no need to buy different sizes as your child grows. Rather, as your baby grows, you simply adjust how far around the front of your baby's tummy you wrap the wings of the nappy and secure firmly with the snaps.
To fit on a newborn (up to approx. 5kg): First, remove the mini booster completely (you will need this later when baby is bigger). Un-snap the large booster and fold the front half under. Fold the nappy up over baby's tummy and then fold the top front of the nappy out and down. Fasten as normal. The more you fold the front down, the smaller the nappy will become and the tighter the fit around the legs.
To fit on a larger baby: Snap the large booster in place, add the mini booster on top, then place baby on top, fold the nappy over baby's tummy and fasten using snaps.
To use at night: Once baby starts sleeping 6 hours or longer, boost the absorbency using a night booster. Lay the folded night booster underneath the snapped-in booster in the nappy.
See how to fit your Cushie Tushie onto a newborn and older baby by watching our demonstration video: 
---
We Also Recommend
---