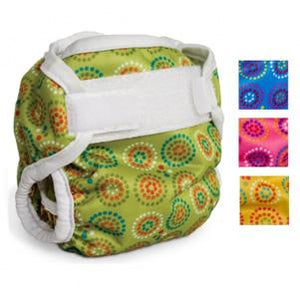 Bummis Superbrite Nappy Cover
Bummis Super Brite: Green, Yellow, Blue, Pink, White, and now 2 new colours Blueberry and Pistachio - wow!

Here is yet another great nappy cover from Bummis!
The brand new SUPER BRITE was designed to ensure a perfectly nappy'ed fit – even for those long, skinny babies that need a little extra protection around the leg.
This gusseted cover closes all the gaps!
You will find the fit of this nappy cover like no other – the gusset with lycra binding is an innovative design that wraps softly around baby's leg with a lot less bulk than normal gussets. The result is a very trim and beautiful nappy cover. And no elastic to leave marks on baby's tender skin - only soft form-fitting lycra.
It comes in a funky print in 6 gorgeous colours, plus white.

Sizes
NEWBORN: 2-4 kg (4-9 lbs)
SMALL: 3.5-7 kg (8-16 lbs)
MEDIUM: 7-14 kg (15-30 lbs)
LARGE: 12-16 kg (27-36 lbs)
X-LARGE: 14.5+ kg (32+ lbs)
The SUPER BRITE is lightweight and waterproof. It consists of one single layer of polyester with a wipe-clean laminated interior. This is a fabric made especially for Bummis – by their local suppliers. Not only is it a fabric of amazing quality, but you can be 100% certain that it adheres as well to stringent environmental and toxicity standards. Cut and sewn in the Bummis factory in Montreal (made by Mums!) so that we are assured of good quality and fair labour practices. The SUPER BRITE is designed to function well with any type of nappy; flat or form-fitted.

Bummi's Covers Comparison Table
---
We Also Recommend
---