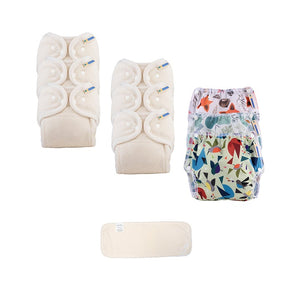 Motherease One Size Nappy Packages
Our One Size™ Fitted Nappy Packages are a great start to cloth nappying.
The One Size™ Fitted Nappy adjusts from 3.6 to 16kgs (8 to 35 lbs) and uses our Air Flow snap cover to provide a leak-free nappy system. The Snap in Absorbent Liner is used to "boost" the absorbency of the nappy for night and nap time after 6 months of age.
Packages include:
6 Pack:
12 Pack:
24 Pack:
---
The One Size Fitted Nappy was our very FIRST cloth nappy we set to manufacture - creating the first and most popular nappy that adjusts to grow with your child until potty training age!
The generous design allows plenty of room for growth while using gentle elastics around the waist and legs to ensure a comfortable leak-free fit.
Time tested, and with only one size needed the One Size Fitted Nappy offers you the very best value.
The Snap in Absorbent Liner provides excellent additional absorbency inside your One Size™ fitted diapers!
Made from three layers of absorbency, sewn together and snap inside our One Size fitted nappies to provide extra absorbency for night and nap time.
The Air Flow Cover is a lightweight, breathable waterproof fitted diaper cover. Available in 5 sizes, the Air Flow fits over top of our One Size and Sandy's fitted diapers.
It features adjustable snaps at both the waist and legs for a secure, tamper-proof fit. Gaps between the snap closures increase air flow, which helps regulate the temperature inside the diaper!
Learn how to adjust the One Size Diaper here: Folding Instructions
---
We Also Recommend
---