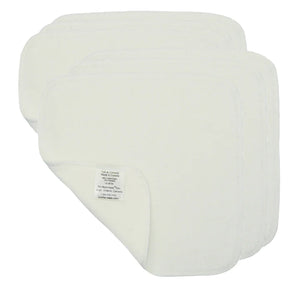 Motherease Cloth Baby Wipes - 6 Pack
Reusable Cloth Baby Wipes are so practical for cleaning baby's bottom without any of the chemicals, alcohol or perfumes used with disposable wipes. Simply rinse after use and wash with your soiled nappies!
They work SO well for cleaning up a poopy mess - you will only need 1 or 2 for even the messiest poops! 
Available in our Organic Cotton. These soft terry wipes are made from two layers of the same knit terry as our nappies.
FAQ - How many wipes are recommended?
On average, you will use approx 1-2 wipes per change. For a newborn, you will be changing approximately 10-12 times per day. We would recommend 10-24 cloth wipes for full time cloth use

Dimensions: 22.8 x 22.8 cm (9" x 9"), 2-ply
---
We Also Recommend
---