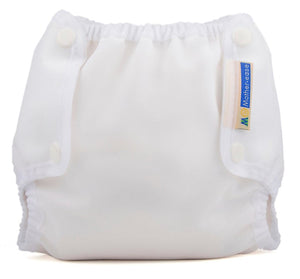 Motherease Air Flow Cover - Seconds
Motherease Air Flow Covers

**We have 1 only Xsmall size white cover that fell between some boxes, got a bit dirty and has had a pre-wash and is all ready for use. No damage or issues besides this**

Xsmall A$19.95
Sm - Lg A$21.95 
Xlarge A$22.95


Finally! A leak-proof nappy cover that refuses to compromise breathability. This cover is made from soft brushed polyester coated with polyurethane (PUL) that is soft, durable and waterproof. The Air Flow Snap Cover, with adjustable snaps at the waist and leg openings, has an air ventilation system between the snaps. This allows for maximum air circulation as baby moves, reducing the risk of breeding bacteria by keeping the temperature inside the nappy down. And, unlike Velcro, a curious baby can't undo them, so they stay on until you take them off!
The Air Flow cover comes in a range of plain colours and five very cute Eco Theme™ prints.
The Air Flow cover is designed to be used with any of the One Size or Sandy's nappies to create a highly breathable, leakproof nappy system.
Sizing
The XSmall and Small size covers fit the same weight range (2.5-5.5kg), however the XSmall is a smaller cover. The XSmall is designed for use with newborn size nappies such as the XS Sandy's nappy or newborn prefolds. The Small size cover is for use with larger nappies such as the one-size nappy or folded terry squares.
Always get Small or XSmall size for a newborn baby - Medium is too large for a new baby. Most people are more than happy with the wear they get from the small size.
If in doubt about the size, do not wash the cover when you get it but try it on over a clean dry nappy. If you are not happy with the size then take it off immediately and we are more than happy to exchange unused/unwashed covers.

X/Small 2.5 - 5.5kgs
Small  2.5 - 5.5kgs
Medium 4.5 - 9kgs
Medium Long 9 - 13kgs
Large 12 - 16kgs
X/Large 16 - 21kgs
---
We Also Recommend
---