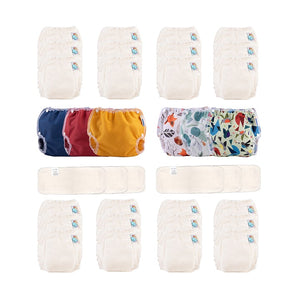 Mother-ease Sandy Full Time Package - 24 Pack
The Sandy's™ 24 Nappy Package is perfect for parents looking to cloth diaper full time!
The Sandy's Nappy is available in three sizes and uses our Air Flow snap cover to provide a leak-free system. The Sandy's Absorbent Liner is used to "boost" the absorbency of the nappy for night and nap time (after 6 months of age).
Sandy's Nappy Sizing:
      Newborn (6-12 lbs) (2.5-5.5kg)
      Small (8-20 lbs) (4-8kg)
      Large (20-35 lbs) (8-17kg) (*Unbleached on backorder - Allow 3 weeks delivery)
This package comes with:
24x Sandy's Nappies
6x Sandy's Absorbent Liners (not included with Newborn)
6x Air Flow Snap Covers
The nappies and absorbent liners in this package are available in an assortment of popular eco-friendly Environmental Fabrics including Unbleached Cotton Terry, and Organic Cotton Terry as well as Sandy's Dry.
Newborn Sandy's Diaper (6-12 lbs)

Fits - XSmall Air Flow Cover (6-12 lbs)
Small Sandy's Diaper (8-20 lbs)
Fits - Small Air Flow Cover (8-12 lbs)
Fits - Medium Air Flow Cover (10-20 lbs)
Large Sandy's Diaper (20-35 lbs)
Fits - Large Air Flow Cover (20-35 lbs)
---
The Sandy's fitted Nappy is world famous for its great absorbency, leak-proof design and ease of washing!
Available in three fabric options for comfort and a great fit with a full set of elastics, around the waist and both legs. Finished with a serged design - each threading color to determine your fabric preference!
The soft Sandy's™ Absorbent Liners provide excellent additional absorbency to any cloth diaper. Simply lay inside and snap the diaper closed!
The Air Flow Cover is a lightweight, breathable waterproof fitted diaper cover. Available in 5 sizes, the Air Flow fits over top of our One Size and Sandy's fitted diapers.
If you have particular colour/print air flow cover options you would like, please mention this above and we'll do our best to accommodate your request.
Notes:
Fitted Diapers require the use of a waterproof diaper cover. Mother-ease recommends using the Air Flow (snap) or Rikki Wrap (Velcro) Covers to be worn over top, creating a leak-free system.
**Organic Cotton diapers should be washed 1-2 times before using with HOT water