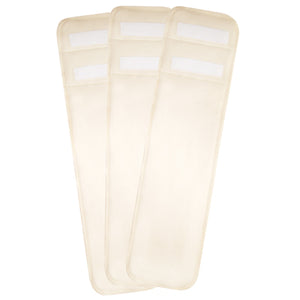 Flip Potty Trainer Pads - 3 Pack
Flip Potty Trainer Pads are one-size, washable soakers for use in the Flip Potty Trainer Pants.
Attaching with an ultra-soft loop fabric. These removable, washable soaker pads have 6 layers of very absorbent organic cotton jersey and you can change them when wet without having to change the whole trainer. These one size inserts fold down to size and the way you fold them can be adjusted to be most effective for boys and girls.
Each package includes 3 one-size 100% organic cotton Flip Potty Trainer Pads.
Wash them in hot water and tumble dry. Do not use laundry additives or softeners.
---
We Also Recommend
---