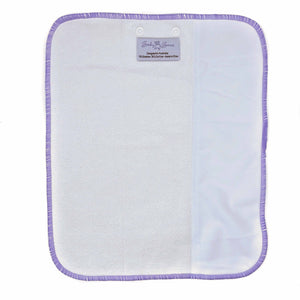 Baby Bare Snap In Trifold
New Trifold with STAY-DRY Suede Cloth Top Layer!
These are super absorbent, large, snap-in trifolds. They snap into our covers and can be laid into any nappy.
They make an amazing night insert or can be used in any nappy to add absorbency.
Featuring our new purple stitching, these inserts are very versatile and are sure to be a popular inclusion in your insert & booster stash.
Fabric: 450GSM Bamboo Fleece (70% bamboo, 30% cotton) with a stay-dry suede cloth top.
Size: 30 x 37cm.
These inserts are the same popular insert that has been used in our Peekaboo AI2 nappies.
IMPORTANT - please make sure you wash your inserts 6-8 times before use to ensure the inserts achieve maximum absorbency. Absorbency will increase with each wash.
---
We Also Recommend
---