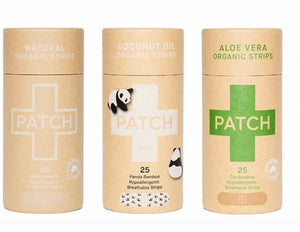 Patch Adhesive Bamboo Bandages - 25 tube
PATCH bamboo bandages

25 bandages per tube - 3 variaties to choose from

PATCH NATURAL: the perfect adhesive strip for those who like to keep it simple and subtle. The ideal wound covering to help repair minor cuts and abrasions.
Our natural range is made from 100% organic bamboo fibre and free from irritating chemicals. Allowing for suitable protection and soft support for sensitive skin types.
These easily contours the skin for maximum comfort and protection. Our natural range contains certified organic bamboo gauze, that acts as an oxygen agent to assist with the skins natural healing process.
PATCH COCONUT OIL KIDS: Engineered for the future eco warriors of our planet, our kids.
Our KIDS range is made from 100% organic bamboo fibre, enriched with coconut oil in the gauze to help soothe minor abrasions and provide long lasting support for sensitive skin. 
Let's not forget the cute panda print, designed to comfort children in life's little emergencies.
Coconut Oil is rich in lauric acid, a fatty acid with anti-viral, anti-fungal and anti-inflammatory properties. It works to helps soothe minor scratches and wounds.

PATCH ALOE VERA: Designed for the adventure warriors.
Our aloe vera range is made from 100% organic bamboo fibre,  the gauze is enriched with aloe vera extract to help repair and soothe burns, blisters and minor abrasions.
PATCH is free from irritating chemicals, allowing for suitable protection and soft support for all sensitive skin types. 
Aloe Vera​ contains two powerful natural compounds (Polysaccharides and Glycoproteins) that assist with wound healing. The aloe vera extract assists perfectly for soothing burns and blisters.
All PATCH wound care strips are hypoallergenic and perfect for those with sensitive skin.
Made with soft, organic bamboo fabric and gauze with hypoallergenic Pressure Sensitive Adhesive (PSA). Our PSA formulation is made from a combination of natural minerals and Nano technology (think tiny suction cups) to gently adhere to the skin without causing reactions.
---
We Also Recommend
---