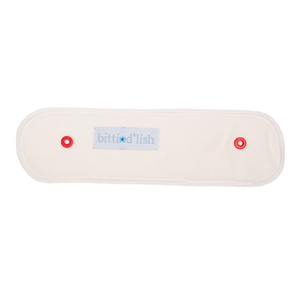 Itti bitti Mini Boosters
*note the mini boosters for sale haave "bitt tutto" labels not "d'lish" as in the picture*
A clever feature of the bitti d'lish nappies is the ability to add an extra microfibre or bamboo mini booster to the nappy to increase absorbency for extra heavy wetters, or for extended wear. These snap on boosters stay in place through the wash, so no need to fiddle around with extra pieces.
They can also be attached with just one snap and folded in half to the front for even more absorbency for boys and tummy sleepers, even with just one snap attached, they usually stay put during the wash.
They feature the itti bitti colour coded snaps for easy reassembly, should you wish to remove the boosters during the wash or on the off chance it does come off.
Adding a snap on mini booster does add a little bulk to the crotch, but the nappies still remain very trim. It is worth it for the extra absorbency - adding the mini boosters to the Snap in AIO's has been tested on the heaviest wetters we could find with fantastic success.

Microfibre $2.95
Bamboo $3.50
---
We Also Recommend
---