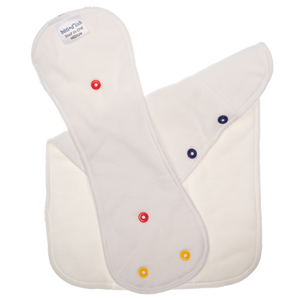 Itti bitti D'Lish Snap in One Booster Set
This set comprises a suedecloth topped hourglass bamboo booster with a trifold bamboo booster - the absorbent part of the Snap In One's.
Extra Snap In One Booster sets have two uses, if the nappy is just wet, not soiled, you can take out the wet boosters and snap in a new set, which makes for an economical option and a great space saver in the nappy bag. We do recommend airing the SIO 'Shell' between uses, just as you would a cover.
For fast turnaround in the laundry, extra booster sets are very handy. The SIO 'shells' dry much faster than the boosters, so if you have an spare set of boosters, you can have your nappy back on bub's bum within a couple of hours of washing.
---
We Also Recommend
---