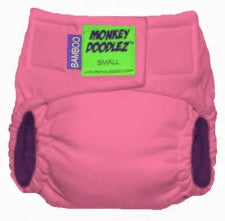 Monkey Doodlez Bamboo
Monkey Doodlez All in One Bamboo Nappy
Now's the perfect time to see why Bamboo is such a favourite!

Bamboo fabrics are luxirously soft and feel kind of like silk.

The microfleece in these nappies is made from a blend of Bamboo (33%) and polyester (67%) which offers silky softness matched with durability. This microfleece will not pill so your baby's bottom will be cradled in silky softness change after change.

Hidden inside is a full layer of heavy weight cotton flannel for an added all over absorbency and breatability. Securely attached is a multi layer thick and thirsty cotton terry soaker pad.

The nappy  fastens with our own Doodlez™ tape (hook and loop) to provide a secure hold while remaining very soft to the touch.

Gentle elastics at the legs and waist provide a comfortable fit.
Newborn 2.3-5kg
Small 3.6-8.2kg
Medium 6.4-12.7kg
Medium Long Rise 9-15.9kg
Large 11.3-17.3kg
---
We Also Recommend
---